SHAKSHOUKA
Now that it's getting cooler, experimenting with warm and hearty dishes are a must! Originating from North Africa and the Middle East, this spicy tomato-based egg meal is perfect for breakfast, lunch or even for dinner ('brinner').
Serves: 6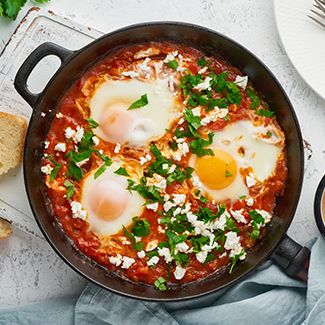 Ingredients:
1 tablespoon extra-virgin olive oil
1 medium brown onion, diced
2 cloves garlic, minced
1 can lentils (420g), rinsed and drained
1 capsicum, diced
1 carrot, grated
4 ribs of celery, chopped
1 teaspoon chilli powder/chilli flakes (reduce or omit if sensitive to spice)
1 teaspoon paprika
½ teaspoon cumin
½ teaspoon oregano
500g passata
2 cans 400g diced tomatoes, without salt or salt reduced
Handful spinach, chopped
5-6 large eggs
¼ cup crumbled feta
Optional: crusty bread or toast, to serve
Method:
In a large pot (ideally one that has a matching lid), heat oil over medium heat. Add in onions and sauté for 2-3 minutes until softened.
Add in garlic, lentils, capsicum, carrot and celery. Stir to combine.
Add in spices: chilli, paprika, cumin and oregano. Stir to combine. Cook veggies until tender for about 5 minutes, stirring occasionally.
Add in the passata, cans of diced tomatoes, ½ cup water, and spinach before bringing mixture to a low boil, reduce heat and simmer for 15 minutes to thicken.
Create 5-6 wells/indentations (depending on how many eggs) in the sauce and crack the eggs directly into the wells. Sprinkle feta cheese on top.
Allow eggs to cook in mixture on low-medium heat covered with pot lid, for 5-7 minutes or until the whites are cooked through.
Transfer the Shakshouka into a bowl and serve with a slice of toasty bread if desired. Enjoy!