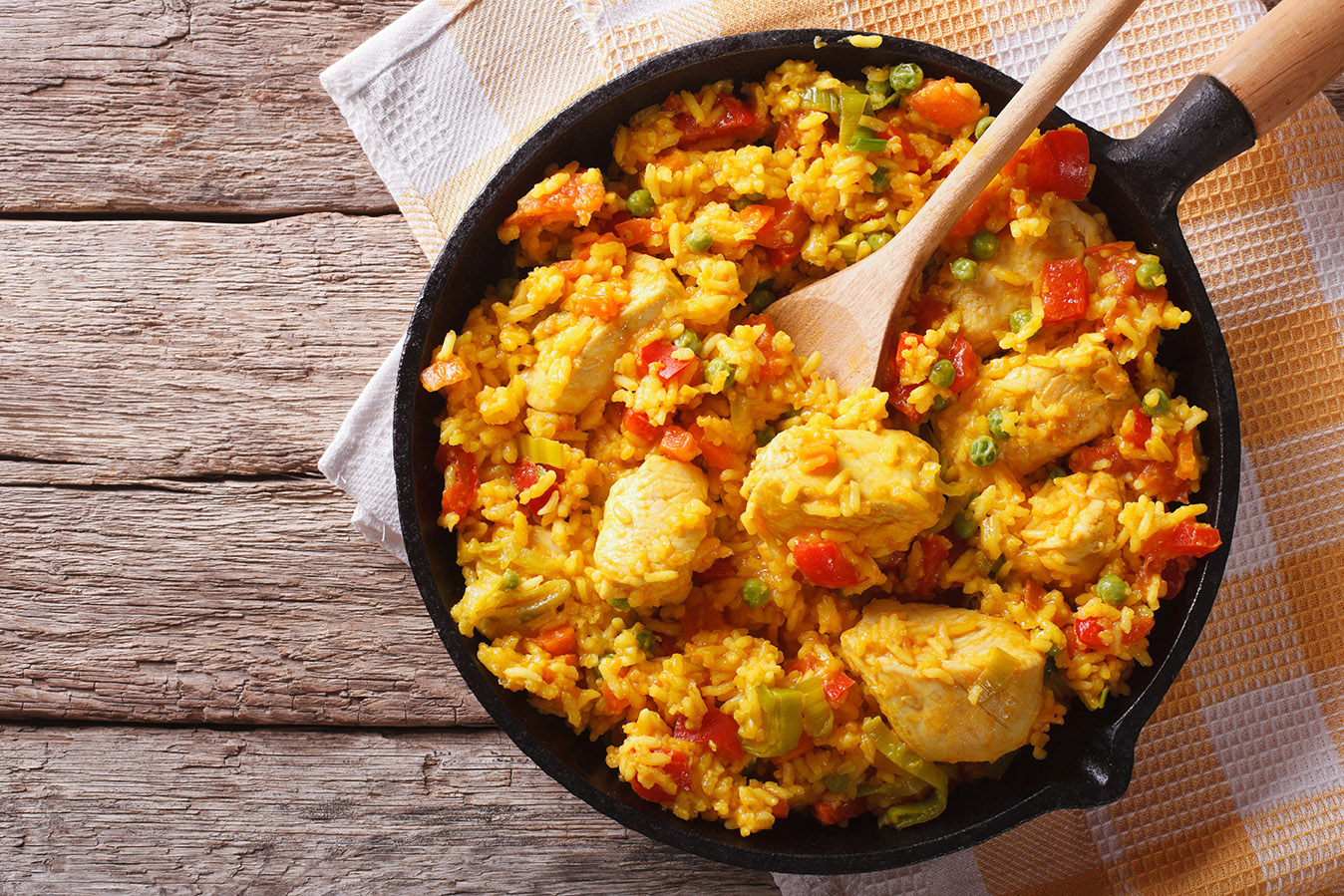 Ingredients
– 1 tablespoon olive oil
– 4 small (680g) skinless chicken thighs*,
– cut into bite-sized pieces
– 1 red onion, medium thinly sliced
– 1 red capsicum, medium thinly sliced
– 4 garlic cloves, thinly sliced
– 2 tablespoons smoked paprika
– 1 tablespoon ground cumin
– 1 cup reduced salt chicken stock
– 400g tin chickpeas (no added salt or reduced salt), drained and rinsed
– ½ cup frozen peas
– ⅔ cup instant cous cous
– ½ bunch of parsley, leaves picked
– 80g reduced fat feta cheese, crumbled (to reduce the salt (sodium) further, drain and rinse before using)
– 1 lemon, cut into wedges
Method
1. Heat oil in a large frying pan over medium-high heat. Cook chicken for 3-4 minutes or until golden brown. Remove from pan.
2. Return pan to medium-high heat. Cook onion and capsicum for 2-3 minutes or until softened. Add garlic, parsley stems, lemon zest, paprika and cumin and cook for a further 30 seconds or until fragrant. Return chicken to the pan. Add reduced salt stock, chickpeas and peas before sprinkling over cous cous. Reduce heat to medium-low and simmer until cous cous has absorbed the liquid and is tender.
3. Divide cous cous paella between serving plates. Garnish with parsley leaves and feta, and serve with lemon wedges.
Nutrition tips
* Using chicken breast instead of chicken thighs lowers total fat to 14g; and saturated fat to 3.9g.
Watch the video of the recipe here: Watch the video here: https://www.youtube.com/watch?v=A1fMCyPfbDY&t=968s
Nutrition Information (per serve)
Energy 2530kJ (605cal)
Protein 39.0g
Fat 41.5g
Sat fat 12.5g*
Carbohydrate 22.5g
Sugars 6.5g
Fibre 12.5g
Sodium 520mg