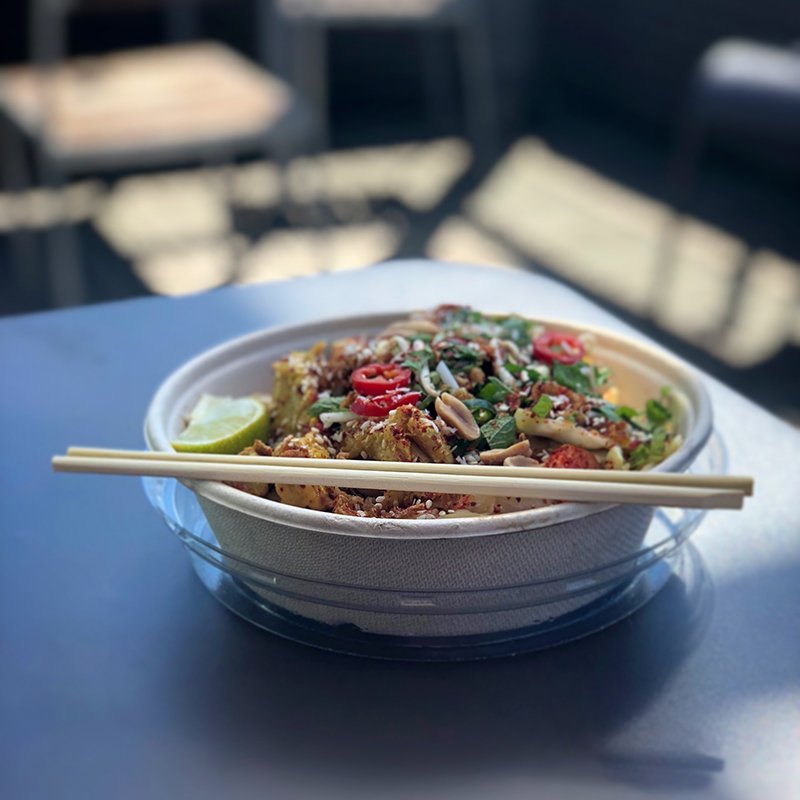 Challenge complete, goals achieved, time to celebrate? Well of course it is, but try some of these healthier alternatives if you plan to celebrate.
The Dietitians Association of Australia recommends reducing the amount of saturated fat with steps such as having a salad when ordering a meal instead of chips, wholegrain sandwiches instead of white bread, lean cuts of meat rather than fried food or try a thin crust pizza with vegetables and lean meat or seafood. Ask what type of oil your food is cooked in, and if possible, have the food cooked in healthier oils such as olive oil.
A healthy lunch choice can be Sushi or Vietnamese rolls, both filled with fresh ingredients. You can design your own specific salads, keep the dressings to a minimum and load them with a variety of vegetables and foods rich in vitamins and minerals. Sandwich shops offer a variety of healthy options too, with a range of wholegrain and rye breads, fresh vegetables and a choice of what type of sauces to put onto your sandwich.
Poke bowls are a very popular option in Australia at the moment, a Hawaiian dish which should include fresh fish, seafood, fresh vegetables and rice. With a huge variety of healthy poke bowls, this is one dish to use as a treat and a great idea for a celebratory meal.
During a challenge it is common to reduce or even to remove your soft drink intake. This is one healthy habit that needs to be maintained. Switching to drinks that are carbonated but have less sugar can be great option, such as sparkling water and kombucha.
Timothy Hanson  AEP ESSA
Exercise Physiologist
The healthiest choices
Thai
Eat this
Steamed spring rolls
Tom yum soup
Salads like Thai beef
Stir-fries with lean meat or seafood and vegies
Steamed rice, noodles
Not this
Deep-fried spring rolls
Satay dishes
Red or green curries
Fried noodle dishes
Fried rice
Why?
Deep-fried food such as spring rolls is high in kilojoules, fat and, often, saturated fat. When ordering, choose dishes with heaps of vegetables and lean meat like stir-fries. You will reach your daily vegetable intake and won't fill up on mainly carbohydrate dishes like Pad Thai. Most curries contain coconut cream that is high in saturated fat and kilojoules.
Chinese
Eat this
Wonton soup
Sizzling steak
Beef and black bean or pork chop suey
Vegies in oyster sauce
Steamed rice
Not this
Sesame prawn toast
Lemon chicken
Chicken chow mein
BBQ duck or pork
Sweet and sour pork
Why?
Sesame prawn toast is fried and contains three times the kilojoules of a satay stick. Clear soups will contain fewer kilojoules than cloudy, and will help fill you up. Look for main dishes that contain lots of vegetables and are in a light sauce such as oyster or black bean. BBQ pork and duck contain a lot of fat in the meat so steer clear of these options.
Italian
Eat this
Plain bread
Pasta with tomato or wine-based sauce
Chicken cacciatore
Seafood dishes (not fried or creamy)
Not this
Garlic or herb bread
Pasta with cream or butter sauces
Risotto
Lasagne
Parmigiana
Why?
Garlic and herb bread have butter added making them high in kilojoules, fat and sodium. Tomato pasta sauces are kinder to your waistline than creamy sauces. Always choose a side salad when ordering, and avoid dishes with large amounts of cheese, butter or cream, such as lasagne, risotto and parmigiana.
Indian
Eat this
Vegetable starters
Roti with raita or dahl
Lean meat vindaloo or tandoori
Lentil or vegie curries, or rogan josh
Not this
Fried dishes like samosas and kofta
Creamy curry sauces
Butter chicken
Pork vindaloo
Biryani
Naan bread
Why?
Even vegetable samosas are deep-fried, making them high in kilojoules and saturated fat. If you feel like a curry, look for lentil/vegetable curries or rogan josh, as these do not contain coconut cream. Unlike naan bread, roti is made with wholemeal flour – a better, healthier choice.
Vietnamese
Eat this
Tips
Portion size is key to healthy dining out. Restaurants provide more than the recommended portion size, so avoid doubling up on food just because you're eating out or taking away.
When ordering a stir-fry, ask for it to be made with a dash of oil and extra vegetables.
Rice paper rolls
Canh (clear broth)
Seafood or lean meat stir-fries or noodles
Salad dishes
Bánh chu'ng (sticky rice and mung beans)
Bò kho (beef and vegetable stew)
Not this
Any fried dishes
Bánh xèo (crepe with pork, coconut oil)
Mi xao don (crisp, deep-fried noodles)
Why?
Look for meals with the most vegetables and steer clear of dishes that contain fatty meat and curries with coconut cream. Lower the fat and kilojoule intake by avoiding dishes that have crispy deep-fried noodles. Choose the salads, clear broths or soups and rice paper rolls.
Greek
Eat this
Dolmades
Dips like tzatziki
Lean meats, game
Grilled seafood, meat
Greek salad
Not this
Fried calamari
Pastitsio
Spinach pie
Moussaka
Haloumi
Why?
Steer away from deep-fried dishes like kleftiko (meatballs), saganaki (fried cheese) and calamari. Limit pastry-based options.
Mexican
Eat this
Chili con carne
Tacos with vegies
Fajitas
Bean-based dishes
Not this
Nachos, burritos
Taquito (fried tortilla)
Enchiladas
Why?
Guacamole, cheese and sour cream add up to high kilojoules and fat. Go for fajitas and build your own. Avoid corn chips or fried corn tortillas. Bean burritos are healthier than beef.
Fast food
Eat this
Grilled fish
Hamburger with one patty and extra salad
Greek salad
Steamed dim sim
BBQ skinless chicken
Not this
Fried foods
Battered fish
Hot chips
Burger with the lot
Why?
For a heart-friendly choice, avoid deep-fried dishes to reduce fats and kilojoules. Go for grilled seafood and salad, not chips.
The savings you'll make*
*Taken from Allan Borushek's Pocket Calorie and Fat Counter
Combination stir-fry, no rice (1720kJ; 20g fat) – Massaman curry (2840kJ; 57g fat)
Stir-fry vegies in soy sauce (1670kJ; 9g fat) – Chicken in plum sauce (3760kJ;40g fat)
Chicken chop suey (920kJ; 15g fat) – BBQ pork (2260kJ; 35g fat)
Steamed rice per cup (480kJ; 0g fat) – Fried rice per cup (1500kJ; 14g fat)
150g grilled fish (630kJ; 1g fat) – 150g battered fish (1590kJ; 23g fat)
Chicken or beef fajita (835kJ; 7g fat) – Beef burrito (1920kJ; 20g fat)
Written by Caitlin Reid found on Australian Healthy Food Guide