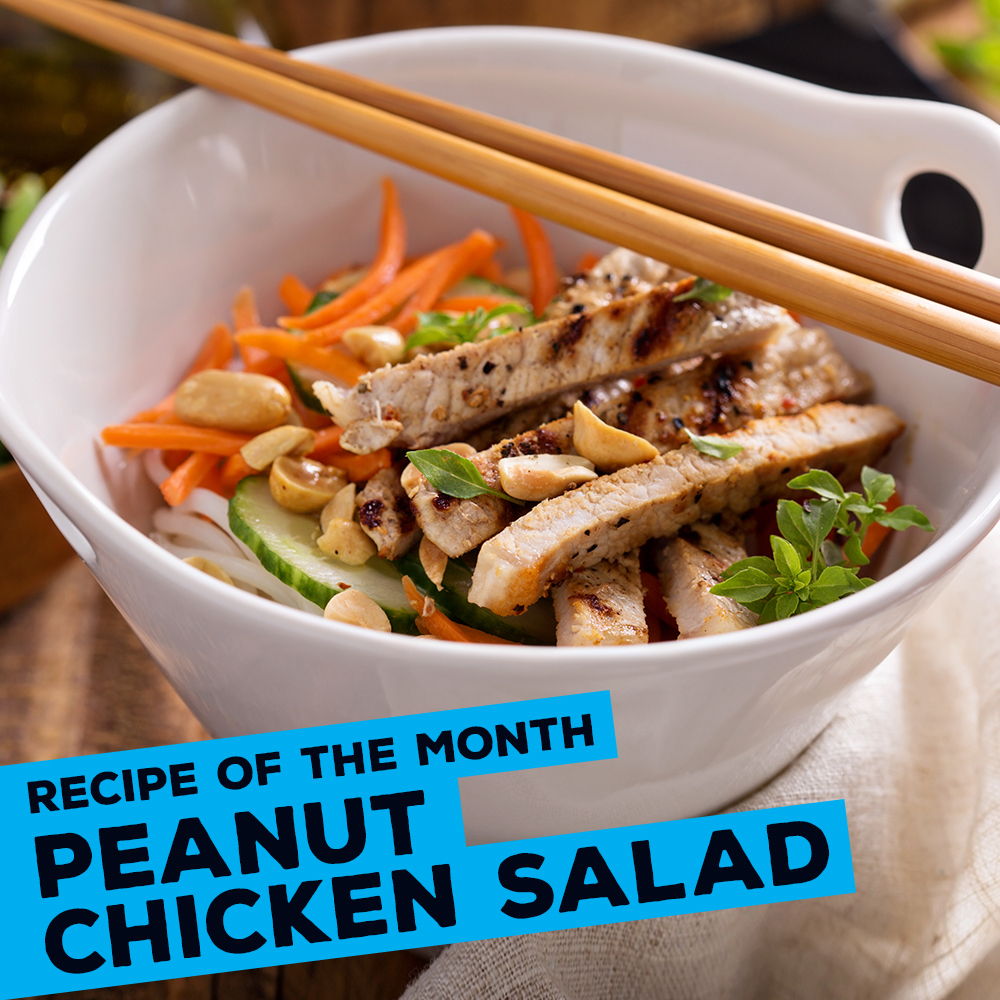 Peanut Chicken Salad
Really see and eat the rainbow with this super easy salad recipe! And the peanut dressing is a must try for all of you peanut butter fans. Feel free to get create and try with different salad ingredients you might have on hand.
Serves: 4
Ingredients:
Chicken and Coleslaw:
400g chicken breast
400g shredded purple cabbage
100g spinach, finely chopped
1 cup grated carrot, with skin on (approximately 2 whole carrots)
1 cucumber, halved lengthways, seeds removed and thinly sliced
1 red onion, thinly sliced
1 red capsicum, thinly sliced
1 cup cooked and shelled edamame
1 handful coriander leaves, plus extra to garnish (omit if desired)
Chopped unsalted peanuts, to garnish (gives it an extra crunch!)
Peanut Dressing*:
1/2 cup natural peanut butter
3 tablespoon sesame seed oil
2 tablespoon rice wine vinegar
2 tablespoon lime juice
2 tablespoon salt reduced soy sauce
1 teaspoon ginger (fresh or ground spice)
Method:
Chicken:

Bring a pot of water to the boil, add chicken breast and return to the boil.
Reduce heat to low and simmer chicken for 15 minutes.
Remove pot from heat and leave chicken in hot water to rest for 5 minutes.
Remove chicken and shred using 2 forks to small pieces. Place in a small bowl.

Salad: Combine all coleslaw ingredients except peanut garnish in a large salad bowl, mix well.
Dressing: Whiz all ingredients together in a food processor or blender.
Serve**: (choose how you serve!)

Layer up: portion out coleslaw ingredients into separate serving bowls, followed by chicken and dollop of dash of dressing on top. Mix.
Mix and mash: add chicken and dressing into coleslaw salad bowl and mix altogether. Serving into individual bowls.
**Don't forget to garnish with a sprinkle of extra coriander and chopped peanuts for crunch!
Enjoy!
*NB – be mindful with amount of peanut dressing (and garnished peanuts) served up if you are aiming to lose weight. The energy dense ingredients of the dressing can mean calories go sneakily unnoticed if over-using! See nutritional information below.
NUTRITIONAL INFORMATION
| | |
| --- | --- |
| CHICKEN & COLESLAW ONLY | PER SERVE |
| Energy | 375 calories |
| Protein | 42 g |
| Fat | 12 g |
| Saturated Fat | 2 g |
| Carbohydrates | 20 g |
| Fibre | 10 g |
Peanut Dressing (total made up): 1280 calories; 37g protein; 117g fat; 16g saturated fat; 58g carbohydrates; 2600mg sodium (approximately 90 calories per tablespoon [20g]).