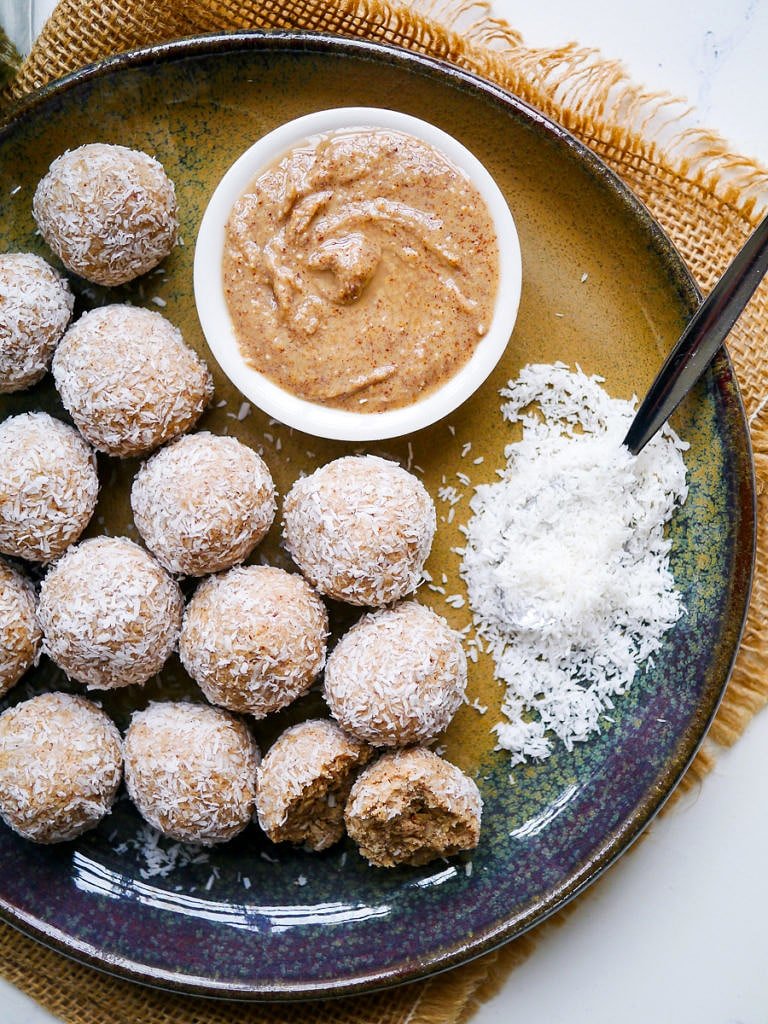 These healthy no food processor protein balls just require a mixing bowl! Easy, gluten free, can easily be made dairy free and vegan.
Course: Snacks and Bites
Prep Time: 30 minutes
Servings: 25 small balls, approximately
Ingredients
1 cup peanut butter – smooth, 100%. Or use a different nut or seed butter such as almond, macadamia etc
1/4 cup honey or another liquid sweetener of choice
1/2 cup rolled oats – gluten free
1/4 cup desiccated coconut
1/2 cup protein powder – I recommend vanilla or chocolate flavour
1/2 cup desiccated coconut EXTRA for rolling
Method
1. Place the peanut butter and honey in a large bowl and use a spoon to mix them together a little.
2. Add the oats, 1/4 cup of desiccated coconut and 1/4 cup of the protein powder to the bowl (i.e. only add half of the protein powder to begin with).
3. Using a wooden spoon or a sturdy spatula, start combining all of the ingredients together. They should form a slightly sticky dough, with a consistency where it can be rolled into balls. Once the mixture has largely come together, you can test it by rolling a bit into a ball with your hands. If it's too wet, add extra protein powder until it reaches the right consistency.
Roll heaped tablespoons of the dough into balls, and then roll in the extra desiccated coconut to coat.
4. Place the balls in the fridge to firm up a little. Leave them stored in the fridge in an airtight container, or alternatively freeze them for a longer life (where they should keep for about 3 months).
Recipe Notes
+ Other liquid sweeteners you can use in this recipe include maple syrup, rice malt syrup (for low fructose), coconut syrup and/or date syrup.
+ You can use plain rolled oats, sometimes called "jumbo oats", or porridge oats (which are slightly more finely milled) in this recipe, either should work just fine. Plain rolled oats will give you a more chunky texture.
+ Choose a good quality protein powder! The quality and flavour of your protein powder will greatly influence the end result here. I really like vanilla in mine, but occasionally swap it up and use a cacao-containing protein powder for a chocolate hit.
Recipe by: Nourish Everyday