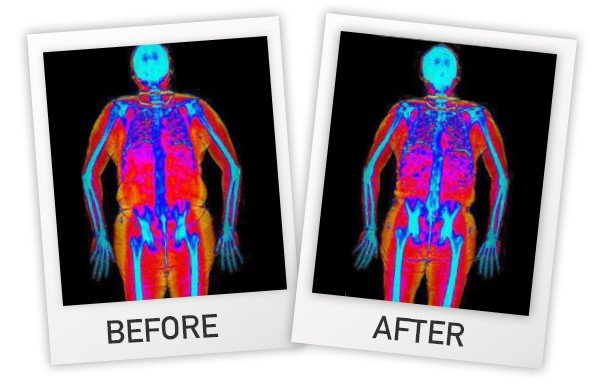 Every Month we would like to highlight a client of our that has made some outstanding changes to their body composition. This months client Jeff, lost an amazing 28kg in the lead up to his first scan with MeasureUp. When comparing Jeff's two scans, he saw another 8kg loss of fat mass, a massive reduction of 29% b.f. (26.5% down to 18.7%)  and reduction of VAT from 119cm2 to 74.2cm2 in a 6 month period! We sat with Jeff to ask A few questions:
1 Did you have a personal trainer that guided you?
JS>> NO. I found that when I used a personal trainer, which I did for 12 months up to May 2017, they seemed to focus on what they wanted to and not what I wanted or preferred and I never achieved any of my goals. I chose to do it on my own.
2. What did you change?
JS>> Identified foods etc that really affect blood sugar and either cut them out or not reduced the significantly. I discovered some that I was unaware of and now I am much more informed and educated on this so I make better choices. Also started to walk more which has now progressed into a daily run of about 5-6 KM's
3. Did you follow a particular diet?
JS>> Reduced sugar intake, including alcohol during the week and only have a drink on a weekend. Eat more protein. Made sure that I have sushimi once or twice a week for lunch.
4. How many times a week do you train?
JS>> Run 5-6 km each day on Mon – Friday and walk Saturday and Sunday.
5. How do you utilise DEXA scans into your program?
JS>> I want to see the changes and where the loss is occurring as I want to make sure that I'm not reducing weight from organs or ares that I shouldn't be (ie muscle etc) also lets me know key areas to determine and modify my targets in comparison with benchmarks that the scan / report provides..
6. Do you have a motto?
JS>>Not really but I do like "nothing tastes as good as skinny feels" probably not politically correct but I sometimes remind myself of that when I'm tempted to splurge on some food that's not the best for me as I really do feel fantastic, am very happy and comfortable in myself and have so much more energy. I do relate to this motto personally so it works for me..
7. Favourite Post work out snack?
JS>> I don't really have a post work out snack as I run very early in the morning. I have my breakfast which is normally some lemon juice (squeeze ½ a lemon in a glass of water) together with either 2 week bix with skim milk or a slice of toast with some olive oil and sliced tomato.
If you know of someone that has had an inspirational body composition transformation, please drop us a line at info@measureup.com.au